This innovative and disruptive technology will set a new 'gold standard in the market' eliminating bacterial contamination and potential for increased viral yield in egg based vaccine manufacture
This ground-breaking development will support the manufacturing of vaccines and scientific research
These bacteria, or 'germfree', eggs will be available for commercial sale in Q2 this year
25 April 2022, Ballina, Mayo, Ireland: Biotechnology company Ovagen Group Limited has today announced the achievement of the world's first bacteria free ('germfree') eggs. These eggs are from a bacteria free flock of birds, and for use in the production of human and animal vaccine manufacture and in cutting edge scientific research.
Chicken eggs have been in clinical use for vaccine manufacture and biopharmaceutical research for over 100 years. However, bacterial contamination of eggs has always been a problem for the vaccine industry. This has now been addressed by Ovagen's multi-skilled research team.
Ovagen's superior quality germfree eggs will therefore set a new gold standard in the market. The biology of germfree eggs may also allow much greater viral yield of certain vaccines. These Germ Free eggs will be available for commercial sale in Q2 2022.
Dr. Catherine Caulfield, Ovagen CEO, commented: "The achievement of germfree eggs is the result of over a decade of research & development for Ovagen, and represents a great advancement of our technology. I would like to sincerely thank our committed and dedicated team for their part in developing this world's first innovative and disruptive technology."
Dr. Leonard Moran, Ovagen Chairman and experienced entrepreneur, said: "Vaccine and biopharmaceutical medicine is a key part of human health, as evidenced by the Covid-19 pandemic. I am really pleased that Ovagen will play such an important role in advancing the science in this area."
European Research funding, through Horizon 2020, and shareholder matched funds have been instrumental in allowing Ovagen take the product from proof of concept to germ free eggs available for customer evaluation. The company is now poised for scale up and commercialisation.
Kevin Burke, National Director for Horizon Europe at Enterprise Ireland said, "This is very positive news for Dr. Caulfield and her team at Ovagen Group. Ovagen Group's engagement with the European Framework Programmes and the award of competitive funding under the SME Instrument has significantly progressed the company's research and innovation ambitions to advance commercialisation and its position to scale.
"The SME Instrument Programme has been succeeded by the European Innovation Council (EIC) Accelerator Programme in Horizon Europe. Enterprise Ireland encourages all innovative Irish start-ups and SMEs to closely look at the opportunities under the EIC and the wider Horizon Europe Programmes to support their innovation and scale-up ambitions."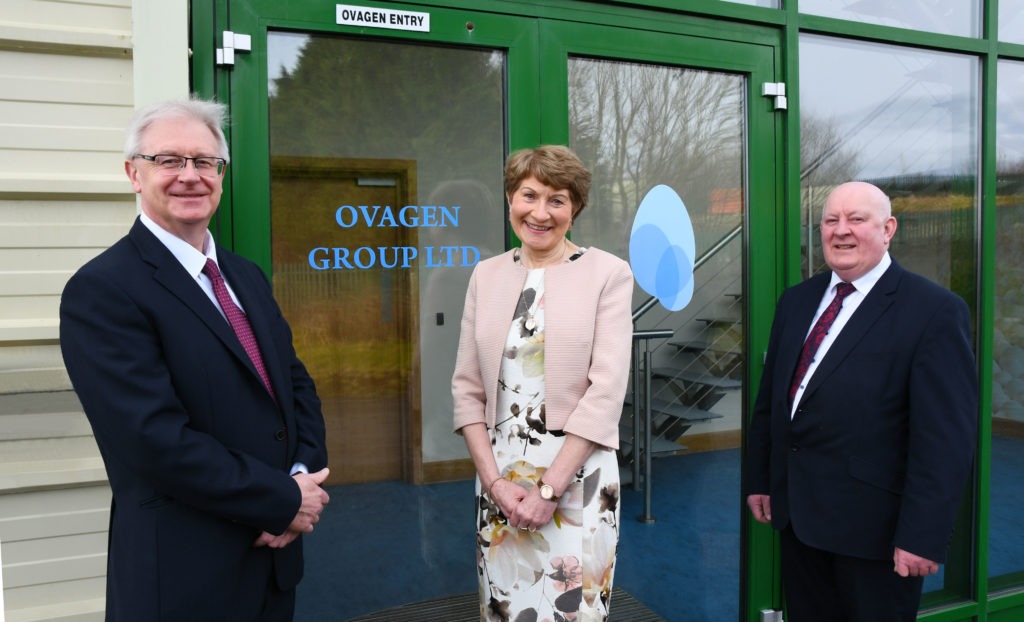 About Ovagen Group Limited. Ballina, Mayo, Ireland.
Ovagen Group Limited is an innovation-based biotechnology company, led by experienced entrepreneurs, providing specialist contract products and services to the biopharmaceutical, pharmaceutical and vaccine industries. The companyhas developed a proprietary process of producing Germ Free chicken eggs and Germ Free birds in commercial quantities for use primarily in the pharmaceutical industry.
For more information, please contact:
Peg Connor (Administrative Office Manager):
Tel: + 353 (0)96 75579
Email: info@ovagen.com
Web: www.ovagen.ie